When it comes to platformers, I tend to lean toward ones that feature some sort of unique gameplay mechanics. Whether it's time manipulation, interesting gunplay, or surprising use of physics, I seek out games that add something extra to keep me engaged. Luckily, My Friend Pedro ticks all the boxes in that domain.
My Friend Pedro is the latest indie romp to come out of publisher Devolver Digital by way of developer DeadToast Entertainment. The game is equal parts side-scrolling platformer and violent shoot 'em up that plays like a high-octane action flick.
Masked Mayhem
At the start of the game, players take control of a nameless, masked fellow who finds himself inside the refrigerator of a butcher shop. You awaken to the sight of a grinning, floating banana named Pedro, who acts as your guide and companion for the rest of the journey. The underground tunnels of the butcher shop act as a tutorial area, where Pedro gives you a rundown of your capabilities. Afterward, you barrel ahead to try and escape, taking down any opposition that stands in your way.
As you maneuver your way through corridors and tunnels, the game eventually takes a turn for the bizarre. You'll meet an assortment of enemies, ranging from apathetic henchmen to aggressive, sword-wielding gamers. There's even a part where you take an excursion to Pedro's world, which swaps the edgy underground scenery for a more whimsical pastel background sprinkled with bug-eyed onlookers. It's hard to describe the world without sounding a bit ridiculous, because most of the events in the game are exactly that.
Ain't That a Kick in the Head
The most notable aspect of My Friend Pedro is the inventive combat mechanics. The game is heavily stylized, which adds to its charm. You'll be doing much more than just pew-pewing your way through bad guys while running horizontally. My Friend Pedro is all about acrobatic maneuvers and extravagant executions. It's not so much about reaching the end of each level; what matters is how badass you looked getting there.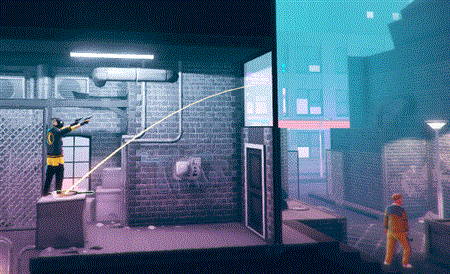 As you make your way through each chapter, you'll acquire a full arsenal of weapons, which you can swap between during combat. Your nameless character starts out with a pistol, then eventually upgrades to dual pistols, SMGs, a shotgun, and even a sniper rifle. While dual-wielding weapons, players can split their aim (there's a banana joke in there somewhere) to target two different enemies at once. Our masked protagonist can also slow down time, which adds cinematic intensity to each fight while also helping with precision.
Players can incorporate objects in the environment into their combat maneuvers as well. Players can kick the fleshy remains of an enemy into another enemy's face to bring them down. If there's a barrel lying around, those can usually be used to roll over and crush unsuspecting foes. Gas canisters and tanks make for convenient explosives. However, the game gets exceptionally fun when the ricochet mechanics are introduced. Not only are there strategically placed metal plates for bouncing bullets into enemies, you can also kick up a frying pan and shoot it to ricochet bullets in various directions.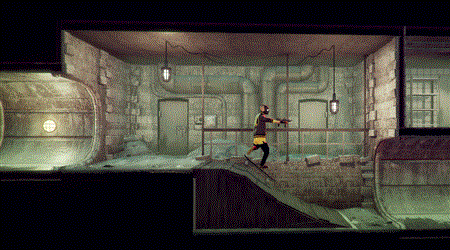 Style Over Substance
My Friend Pedro gives players a plethora of creative ways to eliminate enemies in style. The built-in gif creator encourages multiple replays to capture the most extravagant moments of each playthrough. It's not always about shooting things, however. There are purely parkour sections of the game that test your agility, timing, and coordination. The gameplay feels tight and intuitive, with just the right amount of challenge. Rhythmic techno beats act as a driving force in each level, setting the tone for the carnage that awaits. While the story campaign itself is quite short, you'll want to focus on replaying various levels to improve your scores and achieve S-Rank.
There's an underwhelming storyline that acts as a thin foundation for the events that unfold. However, I'd say don't go looking to Pedro for narrative satisfaction. My Friend Pedro is certainly more about style than substance. What the game lacks in story it makes up for with exciting action sequences, addictive gunplay, versatile combat physics, and zany humor. Think of the corridor scene from Oldboy mixed with the exhilarating shootouts of John Wick, stylized into cartoony, adrenaline-filled mayhem, and you more or less have My Friend Pedro in a nutshell. Or should I say, a banana peel? I'll see myself out.
Review Summary
This game was reviewed on PC. Guide Stash received this product free of charge.
Combat Mechanics - 10
Replayability - 9
Narrative - 7
8
Rating
My Friend Pedro exudes style over substance. The engaging gunplay and combat mechanics are satisfying enough to warrant multiple playthroughs and many, many gifs.